KNOW MORE ABOUT SINGAPORE
CONCEPT PLAN
---
Singapore has transformed from a developing nation to a developed one in less than 50 years, since gaining independence in 1965. The first Concept Plan developed in 1971 was instrumental in shaping the structure of our city and guiding its development over time.
The Concept Plan Review in 2001 factored in new trends to ensure that the land use plans remained robust in addressing future challenges. The plan envisioned Singapore as a thriving world-class city in the 21st century, with rich heritage, character, diversity and identity. In developing the plan, an extensive public consultation exercise was carried out to seek the views of key stakeholders. It aimed to provide a high quality living environment by offering a wider choice of housing options, and also sought to transform Singapore into a global financial hub by setting aside land in the city centre to support the growth of financial and services sectors. As part of the Concept Plan 2001, an Identity Plan and Parks and Waterbodies Plan was drawn up to enhance Singapore's natural and built identity. Under these two plans, we identified 15 nodes where the existing character of the built environment would be reinforced, and created more recreation choices through the opening up of more parks, reservoirs and natural areas. LINK #SINGAPORE MASTER PLAN
---
PUBLIC TRANSPORTATION IN SINGAPORE
---
MRT and LRT (TRAIN SYSTEM)
The construction of the first MRT lines (North-South and East-West lines) began in May 1982, a massive project that cost a hefty S$5 billion. Since then, the MRT has expanded to serve ever more commuters. A line was built to connect the northern and western stations between Woodlands and Jurong. The Northeast Line was added a few years later, to connect the new housing estates of Punggol and Sengkang to downtown Singapore. The Circle Line (CCL), which is set to start operating from 2010 onwards, will cut travelling time and allow commuters to bypass busy interchanges like City Hall and Raffles Place. Costing $6.7 billion, the CCL will be a fully underground orbital line linking all radial lines leading to the city. The line will interchange with the North-South Line, East-West Line and North-East Line. The MRT may be well over 20 years old, but thanks to regular maintenance and facelifts, it'd be hard to notice its age. Most Singaporeans can no longer remember a time without the MRT. It has become a very indispensable way to get from one end of Singapore to another, and it is particularly useful for getting to downtown areas such as Orchard Road or the Central Business District, where traffic can be heavy. More recently, the Light Rapid Transit (LRT) system was also added to the existing train network. Unlike the MRT, the LRT are intra-town loop services – passengers switch from the MRT to the LRT to get to other parts of the town. To date, LRT services have only been implemented in the Bukit Panjang, Sengkang and Punggol housing estates. The greatest advantage that trains have over road transport is their ability to bypass traffic congestion. On top of that, the MRT and LRT are both very cheap compared to train services in most other countries in the world. The major disadvantage is that the rail network is not yet as extensive as most would like it to be. SINGAPORE MRT&LRT MAP
BUS
Public bus transportation is provided by two operators, namely SBS Transit (operating distinctive red-and-white buses) and SMRT (yellow buses). Both operators serve their own network of routes and bus interchanges throughout Singapore. Public buses run daily from 5.30am to midnight. There are also extended night services, namely Nite Owl and NightRider, which cost slightly more (a flat rate ranging from $1.50-$3.00). Otherwise, most fares depend on distance travelled and range from 67 cents to $1.58 for air-conditioned comfort (almost all public buses in Singapore have air-conditioning today). There are also "feeder" bus services that charge a flat rate of 67 cents. These services tend to run along a small circuit of roads within a single housing estate, and usually terminate at major bus interchanges. Other special services include the premier bus service Bus Plus, which offers commuters more convenience, comfort and a shorter travelling time. Buses continue to be a major part of Singapore's public transportation because the MRT network is not yet very extensive – the trains tend only to arrive at major town centres. To get to locations in the more peripheral areas, you'd usually have no choice but to take a bus or a cab. TAXI
Eight taxi companies operate taxis in Singapore: Comfort Transportation, CityCab, Yellow Top Taxi, SMRT Taxis, Trans-Cab Services, SMART Automobile, Premier Taxis and Prime Taxi. Taxis provide you with greater speed, comfort and of course, privacy. Although taxis are subject to the same traffic conditions as public buses, it has the major advantage of not being forced to run on a fixed route. Experienced taxi drivers know which roads to avoid during peak hours to evade traffic jams. The drivers also tend to be great sources of gossip and conversation! All taxis in Singapore charge by the meter. It is a fair and transparent system, but that doesn't make it any more economical, unfortunately. Here's a comparison in fares and travel time for a trip from the first town in Singapore, Toa Payoh, to City Hall (CBD Area) during a non-peak hour: EXPRESS MAP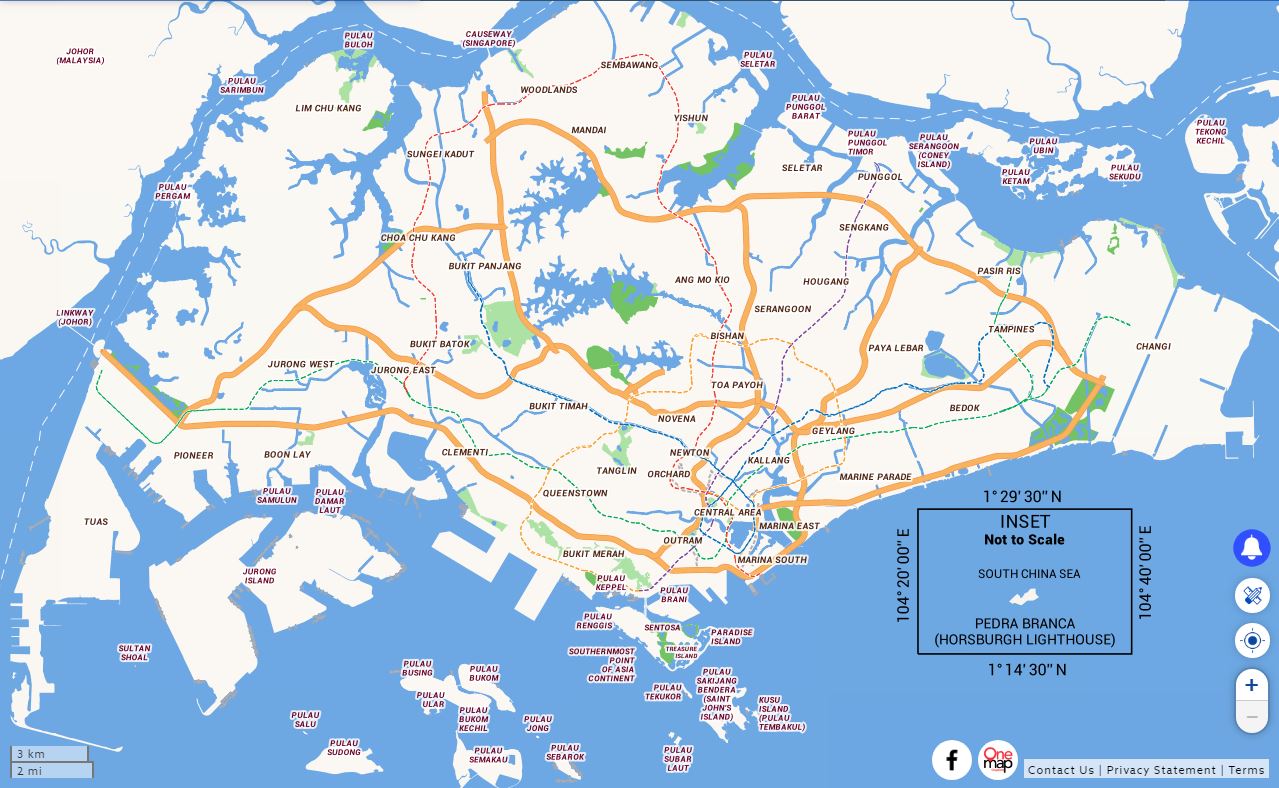 The expressways of Singapore are special roads that allow motorists to travel quickly from one urban area to another. All of them are dual carriageways with grade-separated access. They usually have three to four lanes in each direction, although there are two-lane or five-lane carriageways in some places. There are nine expressways, including the new Kallang–Paya Lebar Expressway, which was completed in September 2008, and another one to start construction in 2008, the Marina Coastal Expressway. Studies about the feasibility of additional expressways are ongoing. Construction on the first expressway, the Pan Island Expressway, started in 1966. The other expressways were completed in stages, with the Kallang–Paya Lebar Expressway being the most recently completed, in 2008. Today, there are 160 km of expressways in Singapore. The Singaporean expressway networks are connected with Malaysian expressway networks via Ayer Rajah Expressway (connects with the Second Link Expressway in Malaysia) and Bukit Timah Expressway (connects with the Skudai Highway via Johor–Singapore Causeway). List of expressways
Ayer Rajah Expressway
Bukit Timah Expressway
Central Expressway
East Coast Parkway
Kallang-Paya Lebar Expressway
Kranji Expressway
Marina Coastal Expressway
North - South Corridor
Pan Island Expressway
Seletar Expressway
Tampines Expressway
---
FUTURE PLAN : NEW AIRPORT
---
JEWELL Jewel Changi Airport (also known as Jewel) is a mixed-use development at Changi Airport in Singapore. It includes gardens, attractions, a hotel, aviation facilities and 300 retail and dining facilities. The complex covers a total gross floor area of 135,700 m2, spanning 10 storeys – five storeys above-ground and five basement storeys. Attractions include the HSBC Rain Vortex, the world's largest indoor waterfall at 40m tall; the Shiseido Forest Valley, an indoor garden spanning five storeys; and the Canopy Park at the topmost level, featuring gardens and leisure facilities
Inside Singapore Changi Airport's New $1.3 Billion Lifestyle Hub | Business Insider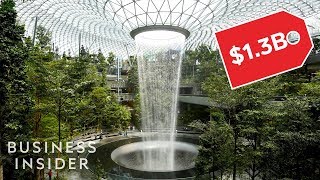 LINK NEW CHANGI AIRPORT CHANGI TERMINAL 5
Changi Airport's passenger traffic has grown steadily in
the past decade, with an average per annum growth of 5.4%. With the prospect of strong aviation growth over the next 20 years, particularly in the Asia-Pacific region, demand for air travel is expected to increase and traffic at Changi Airport is anticipated to grow in tandem. Spanning a massive 1,080 hectares, the Changi East development will provide future capacity for Changi Airport to ride on the projected growth in air travel. The development will serve to secure Singapore's air hub status and ensure its continued competitiveness and relevance. As Changi Airport's largest expansion project to date, the development includes:
Changi Airport's fifth terminal, Terminal 5 (T5)
A three-runway system
The construction of tunnels and other underground systems
Landside and aviation support facilities
The Changi East Industrial Zone

Building Changi Terminal 5: What To Expect | Looking Ahead | CNA Insider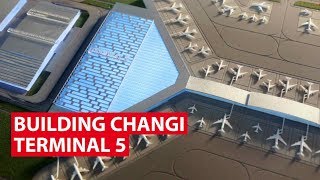 LINK
---
SINGAPORE PROPERTY PRICE TO RISE
---
SINGAPORE — Singapore home prices may rise as much as 10 per cent by the end of next year and are on track to double by 2030 as faster income growth overpowers recent property curbs and higher interest rates, according to Morgan Stanley. Home prices rose in four of the five previous rate hike cycles, Morgan Stanley analysts said in a note to clients. Faster economic growth, the Republic's attraction as a global hub and demand from buyers flush with cash from en-bloc redevelopments will underpin the housing market, they said. The bullish outlook came after the latest property curbs prompted the analysts to revisit last year's forecast that home prices would double by the end of next decade.
"Contrary to common perception, we believe housing supply/demand dynamics remain favourable, and we anticipate a wave of capital inflows into the housing market," Mr Wilson Ng and his colleagues said. "Housing supply is still below historical averages and set to fall." The government has emphasised the goal of the property curbs is price stability and sustainable growth in line with economic fundamentals. Morgan Stanley expects policy interventions to apply equally to both up and down-cycles, so if prices decline the government could relax some of the property curbs, the analysts said. The government rolled out eight rounds of policy tightening for the housing market as home prices surged 60 per cent between 2009 and 2013. It partially removed seller stamp duties in 2017, before re-embarking on curbs in 2018. Because most of the measures from the previous tightening cycle remain in place, this leaves a much wider toolkit to stimulate the housing market should the need arise, Morgan Stanley said. Singapore will also stay relevant as a global hub, which will help attract capital inflows into the property market, analysts at the New York investment bank said. A wave of mega-flagship projects, such as a new terminal at Changi Airport, highlight government efforts to enhance Singapore's competitive edge as a vibrant global city in attracting foreign capital and talent. BLOOMBERG LINK
---
FUTURE PLAN : NEW MRT STATIONS
---
JOINT NEWS RELEASE - CROSS ISLAND LINE 1: NEW LINKS BY 2029 The Land Transport Authority (LTA) is pleased to announce the alignment and station locations for Phase 1 of the Cross Island Line (CRL).

2 - The CRL is our eighth MRT line, and our longest fully underground line. When fully completed, it will serve existing and future developments in the eastern, western, and north-eastern corridors, linking major hubs such as Jurong Lake District, Punggol Digital District and Changi region. The projected daily ridership of the entire CRL is more than 600,000 in the initial years, increasing to over 1 million in the longer term.

3 - LTA will construct the CRL in three phases. Phase 1 of the CRL (CRL1) is 29 kilometres long, and comprises 12 stations from Aviation Park to Bright Hill. This will serve residential and industrial areas such as Loyang, Tampines, Pasir Ris, Defu, Hougang, Serangoon North and Ang Mo Kio. More than 100,000 households will benefit from CRL1, and common recreational spaces such as Changi Beach Park and Bishan-Ang Mo Kio Park will also become more accessible by public transport. Construction for CRL1 is expected to commence in 2020 and be completed by 2029.
4 - Engineering studies are still being conducted for the other phases of the CRL, including the two underground alignment options in the vicinity of the Central Catchment Nature Reserve. LTA has consulted various stakeholders and will take all views into consideration before deciding on the final alignment. Details will be announced when ready.
Shorter Travel Times & Improved Rail Network Resilience

5 - With the improved connectivity, CRL1 will shorten travel times for commuters between the central, north-eastern and eastern parts of Singapore. For instance, a commuter staying at Serangoon North and working at Loyang Industrial Estate will enjoy travel time savings of up to 70%, from 75 minutes by bus today to 25 minutes on the CRL1 (see Annex A for other examples). As with the introduction of other new rail lines, LTA will review the bus services in surrounding areas to optimise connectivity to CRL1 and the rest of the rail network.

6 - CRL1 will connect to the East-West Line at Pasir Ris Station, North East Line at Hougang Station, North-South Line at Ang Mo Kio Station, and the upcoming Thomson-East Coast Line at Bright Hill Station. This multiplies the travel route options for many commuters' journeys, thus enhancing the connectivity and resilience of our overall rail network.

New Depot to Support CRL

7 - A new 57-hectare depot at Changi East will be constructed at-grade to provide stabling and maintenance facilities for up to 80 CRL trains.

Land Acquisition

8 - To facilitate the construction of CRL1 and associated road works, eight properties will be partially acquired by the Government. These acquisitions only involve ancillary features such as green verges, boundary walls and subterranean space. Existing buildings will not be affected.
9 - The Singapore Land Authority (SLA) has gazetted the acquisition of the affected land today. SLA will work closely with the affected landowners and assist them through the acquisition process. LINK
---
FUTURE PLAN : UPGRADE CBD & SENTOSA
---
MARINA BAY SANDS FOURTH TOWER SINGAPORE - Constructing Marina Bay Sands' (MBS) new fourth tower presents many technical challenges, said the architect behind the three existing MBS towers. Renowned architect Moshe Safdie told The Straits Times in an e-mail interview that the biggest challenge will be in accommodating different programme elements of a music arena, a luxury hotel tower and MICE (Meeting, Incentive, Convention, and Exhibition) space on a very tight site.
It is understood that the new tower, together with a state-of-the-art 15,000-seat arena to stage major concerts and additional exhibition space, will sit on a small plot of land just adjacent to the three towers in what is a highly built-up area. Mr Safdie said that his firm, Safdie Architects, is working with the Urban Redevelopment Authority (URA) and Land Transport Authority (LTA) on this development to ensure that there is easy access and flow of traffic around the project. The Canadian-Israeli architect, who also worked on Jewel Changi Airport which opens on April 17, will be responsible for designing the building, along with two other global architectural firms Aedas and Gensler. On Wednesday (April 3), Las Vegas Sands (LVS), the parent company of MBS, announced that they will spend an approximate $4.5 billion on the fourth tower. The new development is part of a $9 billion expansion by MBS and Resorts World Sentosa (RWS), which was announced on the same day. LINK CBD UPGRADE Create A Delightful Neighbourhood The Central Area stands as Singapore's dynamic city centre – home to a global business and financial hub, and a vibrant 24/7 lifestyle destination. The area will continue to grow and become even more vibrant, by accommodating a wider diversity of uses and offering more jobs and business opportunities for the future economy. More city living options nearer to amenities are planned too, with delightful streets and public spaces that celebrate its rich cultural, heritage and green assets.
Creating Residential Communities More homes will be introduced in city locations such as Orchard, CBD, Pearl's Hill, Marina Bay and Marina South, offering residents with greater variety of city living options, with easy access to transport and employment nodes, lifestyle and recreational choices. Supporting amenities such as child care centres, affordable food, as well as people friendly streets and public spaces will create delightful mixed-use neighbourhoods that foster a strong sense of community. LINK SENTOSA New waterfront lifestyle area to open in Sentosa by end-2019 to draw more visitors at night
SINGAPORE - A new lifestyle quarter featuring eateries, shops, concert and event spaces, and waterfront accommodation is set to open in Sentosa by the end of the year, as part of plans to increase the resort island's night offerings. Called Siloso Green, it will take over the 24,500 sq m space vacated by Underwater World in 2016, and have a shipping container theme. Bars, food trucks, innovative business concepts and live music under the stars are among the draws of the new attraction, Sentosa Development Corporation (SDC) said in a statement on Friday (March 29). More night-time events are also on the cards for this year, including the Skechers Sundown music festival next month and the AIA Glow Festival in May. The AIA event will feature a charity run, mass yoga sessions and performances by local and international acts. About 30 per cent of Sentosa's attractions currently open until 9pm or later, while a number of bars and beach clubs operate up to 1am on most days, SDC said. Rumours Bar and Grill, a popular Bali beach bar, will add to the nightlife scene when it opens at Siloso Beach in the middle of this year. Rumours currently has an outlet in Holland Village. Sentosa sees about 19 million visitors a year, and about 30 per cent of them are locals. The island's entry fees vary, with free entry for those who opt to walk or cycle, for example. There are also a range of differently priced offerings including free light shows and plans to introduce busking performances, said Mr Chee. LINK #SINGAPORE FUTURE PLAN
---
FUTURE PLAN : NEW HOUSING CONCEPTS
---
New Housing Concepts & More Choices Future residential precincts will be designed to provide an even better quality of life. You can look forward to smart and sustainable towns that are well-connected, providing community-centric amenities, inclusive and vibrant public spaces. | Providing More Housing Options to Choose From From being closer to nature at Tengah, living by the waterfront at Punggol, staying at city fringes in Queenstown, or trying out new housing concepts at Kampong Bugis, a new exciting array of housing options will be designed to suit residents' preferred lifestyles.
LINK | Strengthening Economic Gateways Our gateways, encompassing key employment nodes and infrastructure that connects us globally, will be enhanced to diversify and deepen our linkages to external markets. This will strengthen Singapore's hub status and ensure opportunities will remain open to our businesses and people.
LINK
---
SINGAPORE MAPS
---
WHICH ARE THE MOST POPULAR AREAS? AND WHY? Singapore District Map
Singapore Regional Map
Singapore MRT station Map
Singapore Express Way Map
Singapore Property Heat Map
Singapore Property Salary Median Map
---
---